A mesmerizing drive away from Salem, in Tamil Nadu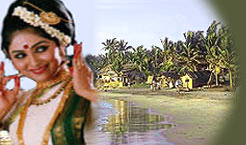 As a rule, hill stations are crammed with tourists, so where can one find his 'peace' in a hill haven and still, escape from the touristy crowds? Yercaud, a mesmerizing drive away from Salem, in Tamil Nadu, also known as poor man's Ooty, is your own little private space. A paradise of lakes and forests, Yercaud is a treasure house for those who like the earth painted green.
As a summer retreat, Yercaud is unparalleled, when sunshine shows its restorative powers as a disinfectant, interspersed in a tapestry of winking flora and fleeing fauna.
Given its colonial background, Yercaud is dotted with beautiful row houses, like ants moving in files that speckle the entire hills. Yercaud is famous for coffee and pepper in much or less the same way, Ooty and Kodaikanal are famous for tea. For those who prefer the open spaces, there are any number of touristy distractions like old castles, parks, caves, view points, botanical gardens, forests and lakes, to work up an appetite for a typical Madrasi dinner.
Rather mysteriously, some people are coy about describing Yercaud as a hill station. The undulating drive up to Yercaud punctuated by trademark curves and dips is sufficient to debunk this myth. If you are traveling on a misty morning when visibility is near zero, you get the eerie – and enchanting – experience of getting lost in the clouds. If this is not hill station territory, then nothing is. Perhaps, this could be Yercaud's punch line?
A day in Yercaud works like a tonic for a lifetime of memories. The place is picture perfect for lazy strolls along pine-shadowed pathways that shyly hide their delights till they turn, past sun-soaked meadows, and with a plethora of local treats on-the-go, are enough to walk off your lunch.
Yercaud is also not pricey – perhaps that's why it is humbly described. Escape the tourists. Welcome to Yercaud. And find your own holiday.
Located: 35 kms from Salem
How to Reach: One hour by bus from Salem
—