Nature Tours
Surrounded by water on three sides and having more than 7500 km of coastline, India is home to an amazing array of beaches. These tropical beaches offer a picture perfect combination of sun, sand and sea. Some of the beach destinations of India are Kerala, Goa, Mumbai, Andaman & Nicobar Islands and Lakshwadeep Islands.Being seventh largest county in the world, India also offers some extremely breathtaking views of nature. You can feel rejuvenated in the natural beauty of Darjeeling, Pemayangtse and Gangtok in Sikkim.
So whether you prefer to have a India beach tour  or have a tour amidst the natural beauty of Himalayas and other hill stations, our travel specialists will create a tailor-made itinerary that will include all your desires and passions at a pace decided by you.
Sample Itineraries...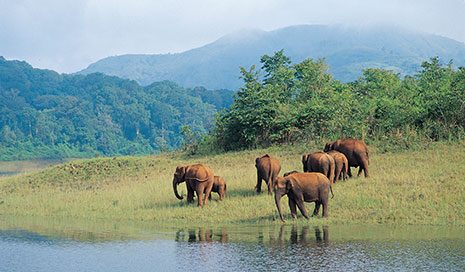 14 days of South India Wildlife and Nature Tour
Destinations Covered : Bangalore-Nagarhole National Park-Wayanad-Athirapally Waterfalls-Munnar-Thekkady-Houseboat-Cochin
View Detailed Itinerary
Local Offices & 24x7 Support
Reviews of Bespoke India Holidays
Fergusthedog,Australia
Myself and family recently used Bespoke India Holidays for a two week vacation across a number of locations and cities in Northern India, and a 2 day visit to Nepal. I was particularly impressed with their level of knowledge and responsiveness to my questions during the preparation phase. All the location tour guides were excellent and all vehicles / drivers were of a high quality. If we had any problems they were quickly resolved by the locally appointed representative. I would happy recommend their services to anyone who wishes to see India at it's best. As a personal recommendation, be specific as to what you expect from the quality of your hotel and transport arrangements. Don't assume that your expectations will be met completely unless you detail your specifications exactly – we got caught out a little by this. However it was learning for me and Bespoke. In summary, an all round excellent company to deal with.
Rajiv Malhotra
The best part of the India tour was the Houseboat. In all it was a great experience and I look forward to booking another trip with Bespoke India Holidays soon.
We enjoy talking about India
Please feel free to get in touch with us for
absolutely anything you want to know and we will be glad to respond.