Radisson, Varanasi – A luxury hotel
Radisson
You are in Varanasi, the holiest temple town of Hindus, and wish nothing but the very best of hotel destinations. The best address in town is Radisson: 100% satisfaction guaranteed! Why guaranteed? Because if you aren't satisfied, they will make it right or you won't pay, guaranteed, period. This is one of the hotels that you can stay in Varanasi for your luxury India tour.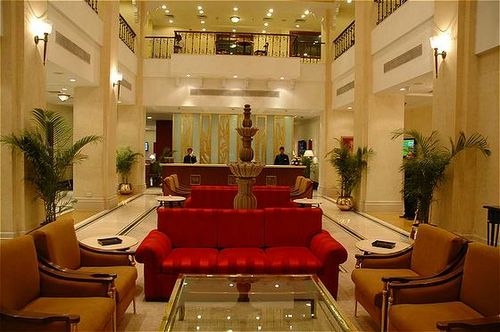 Location:
Whether you are on business or on a holiday, Radisson is your best bet. It is centrally located, in the heart of the city's commercial hub, and more importantly, the world famous Ganges River Ghats is only a few minutes' drive (seven kilometers). If you are reaching Varanasi by train or bus, Radisson is only a stone's throw away (2 kilometres) so you can promptly look forward to a hot bath for your aching feet, or hit the sack straightaway to rest your fatigue. Just a 30-minute drive from the airport and a five-minute drive from Cantt Railway Station, the Radisson Hotel Varanasi can truly be called international. It is also close to major corporations, commercial districts and theaters.
Radisson is also close to most of the city's temples, so you can save up on wasteful commute time. Rating: 4/5.
Amenities
After you enter Radisson, close your eyes and think of your own idea of cinematic happy hour. Now, open your eyes and see the visual unfold: 5-star in promise, but much more in effect.
Large and comfy Guest rooms with the best in town thick, plush mattress, with thick drapes and chocolate-brown furniture offset by pale walls, marbled bathrooms with green marble floors and gleaming fittings, smart Club Floor units with snazzy wooden floors with rugs, plasma screen TVs, and wonderful rainfall showers – it's truly fully loaded to pamper you no end. There's also a full spa and a smallish pool with wooden deck chairs and its own bar.
Facilities:
2 restaurants; bar; lounge and pastry bar; pool; health club; spa; travel desk; business center; 24-hr. room service; babysitting; doctor-on-call; currency exchange; palmist; resident artist.
Something Special: Radisson is one of the few hotels in Varanasi that offers an on-site travel desk.
Rating: 4/5.
Experience
Radisson hides more than it reveals. What you see in the open is the luxurious feel one gets to expect in a 5-star ambience, but what lies hidden is equally, if not more, worthwhile. The hotel is so structured to make you feel that space is the most ostentatious luxury. For the discerning tourist, Radisson offers ample opportunities to escape the tourists and head for solitude. Here, one can easily and instantly flip into vacation mode and become one with the super secluded spaces. Radisson offers multiple choices of local treats that are not easily forgotten. Rating: 4/5.
Food
For the modern tourist, the proof of the palate is not in the taste, but in taste and health. Radisson's specialty is its uncanny ability to create a multi-cuisine that meets the best of both worlds, i.e. it's tasty AND healthy. You can't think of beginning the day without a sumptuous breakfast served in the bright sunflower-themed coffee shop. An exotic mix of fine cuisine and beverages are available at Radisson's restaurants, an elegant bar, casual tea/coffee lounge and poolside barbecue.Rating: 4/5.
Price: A little on the high side, but affordable if you are looking for a holiday you want to remember for a lifetime. Rating: 4/5.