Oberoi Amarvilas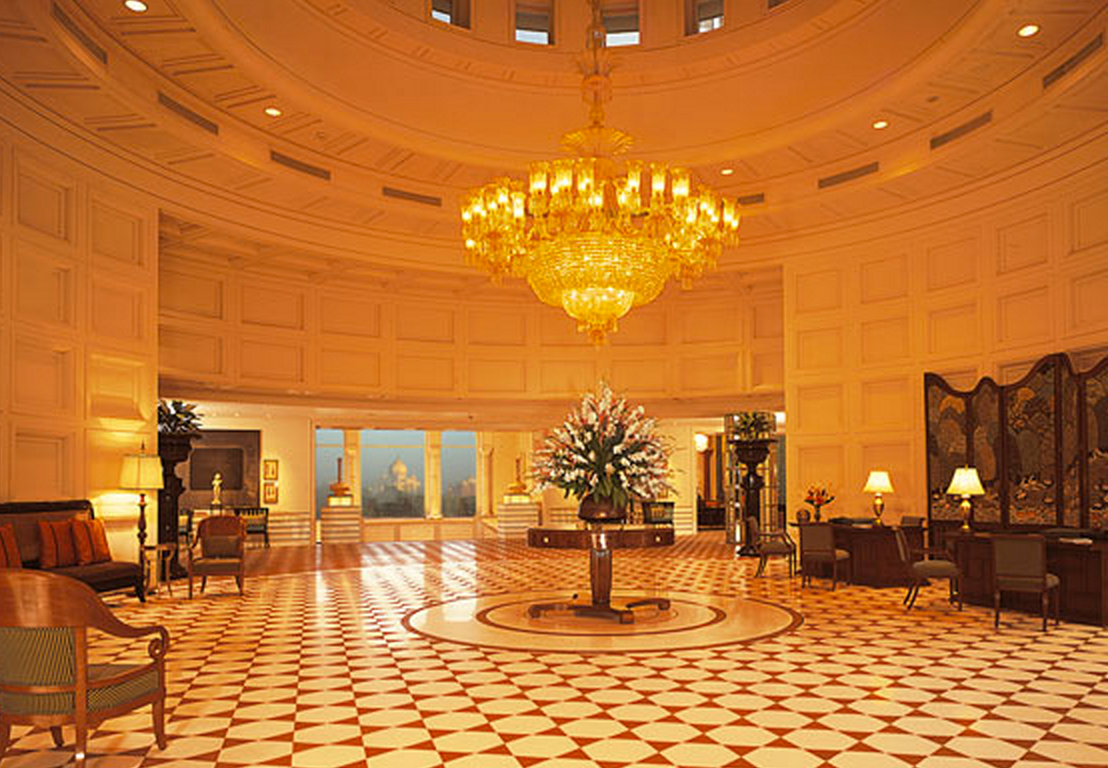 Oberoi Amarvilas: A Palace Overlooking Another
Located just 600 meters from the greatest ever monument to love, Oberoi Amarvilas is the only hotel that features direct and scintillating views of the Taj Mahal. The world-class luxury hotel is a paradise reflecting the eccentric grandeur of the timeless monument, while offering guests contemporary services in comfort and luxury. The Sanskrit translation of the hotel means "Eternal Heaven", and the serene and lush Mughal-inspired terraced gardens and pools confirm just that!
Few resorts and hotels offer such glorious views of a historic monument. The close proximity to the Taj Mahal is surely one of the reasons why our guests love staying here. A striking display of fountains, pavilions, terraced lawns and reflection pools make the outdoors come alive, while the rich interiors promise to take you through a walk of the wonderful Indian past. Each suite, room, lobby, lounge and bar offers incredible views of the magnificent monument. Our suites and rooms are gorgeously decorated with striking handmade rugs, wood floors and exotic art collections. With 102 rooms to choose from, you have the opportunity to enjoy the comfort of unparalleled views of one of man's finest creations on your luxury India tour.
Contemporary Services for a Convenient Vacation
The rooms at Oberoi Amarvilas are distinctive and old-fashioned in terms of their exotic looks, but the nature of services on offer scream modernity! Each room has features such as LCD TV, satellite television, DVD player, wireless internet, dual line phones including voice mail, separate walk-in closets including an electronic safe, personal mini-bar, butler service and much more.
Oberoi Amarvilas isn't just known to be a fantastic hotel for families on vacations. We cater to business trips as well, and our clients are most impressed with the state of the art Business Centre that is open round the clock. Business trips at the hotel includes services such as fax, PC rentals, multilingual staff, boardroom, interpreters and secretarial services. If you're looking to relax and rejuvenate yourself, Oberoi Amarvilas is the ideal location to host your stay in India. The gym offers you the chance to work on your fitness while the therapeutic detoxifying treatments in the spa coupled with a yoga session will bring you closer to your inner self.
The highlight of your stay at Oberoi Amarvilas will definitely excite your taste buds as you let them indulge in exotic Mughal and Indian cuisines. The hotel is also perfect for those looking to explore UNESCO World Heritage Sites such as the Taj Mahal, the Fatehpur Sikri or the Agra Fort on their luxury India tour.